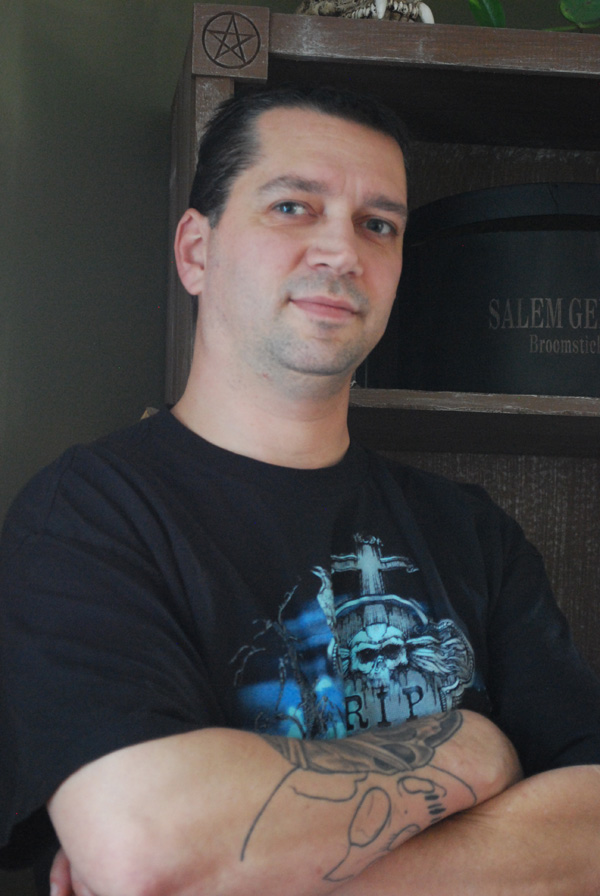 Upstate New York, I can't think of a better place for anyone who loves the Fall season. The Adirondack Mountains become nature's canvas as they are painted by the colors of the changing leaves. Roadside farmers surround their stands with bundles of cornstalks and hoards of bright orange pumpkins, all begging to adorn our porches and stoops. Piles of fallen leaves line our streets and blanket our yards as Mother Nature prepares for the impending winter. This truly is a beautiful time of year in the northeast, and I feel blessed to be able to call this my home.
Born only days before All Hallows Eve, this has always been my favorite time of year, and more specifically, my favorite holiday. Growing up, my mother would always don our house with ceramic figurines and paper window decorations fitting of whatever holiday season was upon us, but it was the errie images that appealed to me the most. As my little sister and I grew older, my mother would begin to put less and less focus on decorating for Halloween (and more and more on Christmas), and by the time I had reached my teenage years, my mother's arsenal of Halloween Decor had dwindled down to none but what might fit within a shoebox. Certainly I could not let this, my holiday, all but perish from my home, so at about 15 years old, I took matters into myown hands. Armed with only a plastic skull, a strobe light and enough scrap wood to build a house, I began to explore my artistic muses. Over the next few years, I would set up creepy displays in our front porch picture window, usually consisting of a rag bearing skeleton creeping amongst a few plywood tombstones. It was all very simple, but it was great fun.
Fast forward several years, through the period of early adulthood where life in apartment buildings and 2-story flats made decorating impractical, and entry-level jobs made it less than affordable. Finally, My new bride, and our first born son had found ourselves in an apartment that had decorating potential. The excitement of Halloween had returned as I dusted off my treasured plastic skull, wood framed skeleton and hand carved skeleton hands. One bag of spiderweb material was all I needed to make our front porch into a mighty conjurer of nightmares. I teemed with anticipation as I began to resurrect my display a week before Halloween, and as I reveled in the beauty of my finished work, I knew that nightfall was the only thing left to add. That night as I returned home from work, I could hardly wait to see my accomplishment in all it's darkened glory. As I approached the house, something seemed off. And then it hit me like a horseshoe to the head. My skull was GONE! Some thieving vandal had stolen my prized possession. I was overcome with disappointment, so much so that the joy of decorating for Halloween died in me for the next 10 years. It probably seems a bit drastic, (it does to me now) but I was really quite fond of that skull.
About 10 years later, I stumbled on a website named Spooky Blue. It was a site that's veins flowed with the blood of Halloween. So many ideas, so much potential, and so much inspiration. It was all that I needed to remind me why I had enjoyed decorating for this holiday so many years earlier. Suddenly, a spark was ignited within me that I vow to never again let fade away. I refuse to let my passion for this holiday be corrupted by some insignificant and greedy vandal of the past. I have now resumed decorating for the Halloween season, and I do so with the intent to make up for all the years lost. The only difference is, I am a bit more cautious about what gets put out early, and everything is well looked after on Halloween night.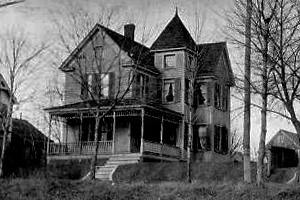 We have since bought and moved into that very same house in which I grew up, and I have now included my entire family in the ritual of building halloween props and haunts. I am no longer restricted to the front porch window and to top it all off, the house, one of the oldest in the village, has a look that compliments the theme. The photo here shows the house as it stood in 1911 (boy what I wouldn't do to get the house to look as creepy as it did back then). I look forward to the many years to come, decorating for Halloween, and dragging my family deeper and deeper into my madness.
If you have a halloween story of your own, I would love to hear it. Send us an Email and tell us your story. With that, I bid you all Happy Haunting